Prachee Avasthi, Ph.D.
prachee_avasthi.jpg.png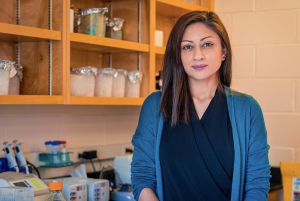 Associate Professor of Biochemistry and Cell Biology
Office:  Vail 409A
Phone:  603-646-5177
We are a fundamental cell biology lab using genetics, bioche­mistry, chemical biology, microscopy, and quantitative image analysis to probe how signaling and trafficking coordinate to build higher order cytoskeletal structures. We use the simplest and most powerful model system appropriate for our studies, a yeast-like alga Chlamydomonas reinhardtii,to study a conserved microtubule-based sensory organelle, the cilium. Defects in cilia, which are found on nearly all human cells, can cause blindness, kidney disease, diabetes, cancer, and other disorders.  We also study organization and regulation of the actin cytoskeleton, which we previously found has a major role in ciliary assembly. Lab projects span a wide array of topics including cytoskeletal dynamics, intracellular trafficking, and signal-dependent organelle regulation.
Website / Email / PubMed Articles /