Guarini School Barrier Removal Funds
With the generous support of our Advisory Board, the Guarini School has put in place an emergency fund for students with pressing financial needs.
Examples of needs covered include emergency travel, medical co-payments or personal needs, or assistance with educational needs not covered by financial aid.
Funds are generally limited to not more than $600 per academic year and are primarily available to stipend receiving PhD and Master's students. The Office of Financial Aid oversees allocation of these funds. 
To request these funds, please apply on DartHub, through the Financial Aid Tile, as shown.
screen_shot_2022-12-09_at_11.56.54_am.png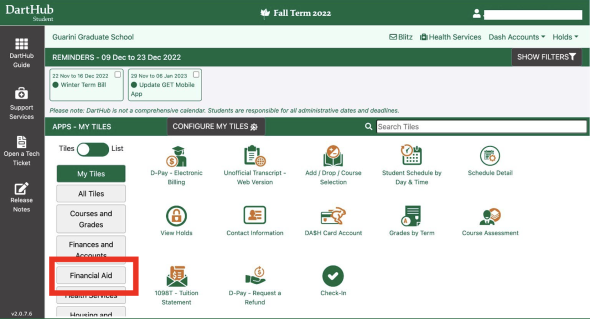 screen_shot_2022-12-09_at_11.56.21_am.png