Funds for Childcare
The Guarini School provides a Childcare Subsidy for stipend-supported PhD and Master's students of $3,000/year per eligible child under 6 years old, capped at three children.
Eligible children are those who are under 6 years old and who have not yet entered kindergarten. Please see the Application Form for further information.
To request these funds, please apply on DartHub through the Financial Aid Tile as shown, following the same procedure as Barrier Removal funds. Indicate you are applying for the Childcare Subsidy.
After your submission, the Financial Aid office will contact you with information on how to securely upload the Application Form and Supporting Documents.
Please note, this payment will be subject to applicable taxes. 
Requests for the childcare subsidy will be accepted on a rolling basis, and will be paid once per term. 
Payments will be processed according to the following schedule:
Fall term – documents to Financial Aid by October 1

Winter term– documents to Financial Aid by January 1

Spring term – documents to Financial Aid by April 1

Summer term – documents to Financial Aid by July 1
screen_shot_2022-12-09_at_11.56.54_am.png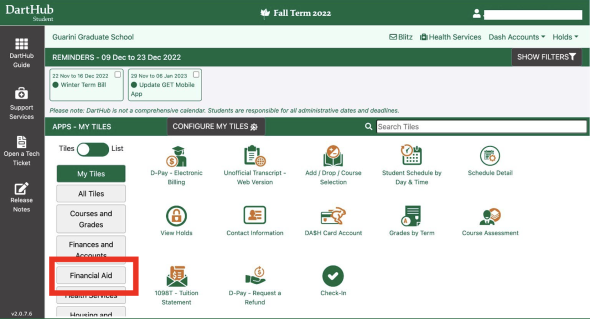 screen_shot_2022-12-09_at_11.56.21_am.png